May E-News
Farewell to Carpenter's Champion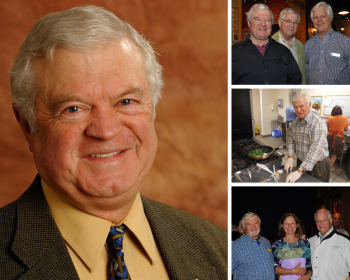 Carson Lee Fifer, Jr. 1943 - 2022
Lee Fifer Jr. had a profound impact on the work of Carpenter's Shelter. He helped transition the organization from a winter-only, interfaith effort in the early 1990s to the multi-faceted nonprofit determined to end homelessness that it is today. Lee was gifted in bringing people together to support the work of Carpenter's Shelter. He served for many years on Carpenter's Board of Directors including as Chair of the Fundraising Committee and Board Chair. He originated the idea for Carpenter's Cook-Off, our signature fundraising event that has raised over $1 million since it began in 2001.
Fran Becker, Carpenter's Shelter's former Executive Director, remembers Lee with great fondness, "Lee's strategic leadership in programming and board development chartered Carpenter's Shelter onto its current successful course. He was a very special man. He was always interested in the stories of people experiencing homelessness and had a soft-spot for children living in the shelter."
"Lee was not only a longtime champion for those experiencing homelessness but also for the role of education as a means for people to make a better life," adds current Executive Director Shannon Steene. He viewed education as the key to self-sufficiency and was an early advocate and supporter of Carpenter's Scholarship Fund which now bears his name. In the past year alone, the Lee Fifer Jr. Education Scholarship Fund has awarded more than $20,000 to current and former residents for technical degrees, certifications, and college tuition.
We are so grateful for Lee's leadership, vision, and legacy. Check out this video to learn why Lee was awarded our Distinguished Service Award in 2017.
From the Desk of . . .
Finnie Caldwell, LCSW, Therapeutic Services Director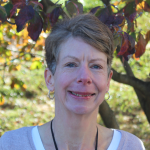 May i
s Mental Health Awareness Month,
an opportunity to raise awareness of those living with mental health challenges and to help reduce the stigma so many experience.
Stigma around mental health occurs when a person is regarded negatively because of their mental health challenges. Stigma can lead to feelings of shame and isolation, and lead to reluctance or misunderstandings about treatment. Those living with both mental illness and homelessness can often be blamed for "causing" their homelessness because of their behavior.
Carpenter's Shelter has provided me a unique window into both the struggles and stigmas associated with mental health issues, and the inspiring healing and transformation which occurs when people are able to access care. Faces of many former residents spring to mind when I reflect on the impact of treatment.
Mary is a former resident who came to Carpenter's having experienced multiple episodes of homelessness, incarcerations, and psychiatric hospitalizations as a result of her mental illness. One symptom of her mental illness was lack of insight; Mary wasn't aware that she was not well, and thus did not think she needed treatment. After a series of events resulted in her hospitalization, Mary returned to Carpenter's having stabilized on medication. She became open to continuing mental health treatment, and in a very short time was able to obtain housing, and part time employment.
Our dedicated Mental Health program at Carpenter's Shelter provides crucial assessment and treatment options for our clients. Your support ensures that people like Mary have the opportunity to succeed.
Housing Palooza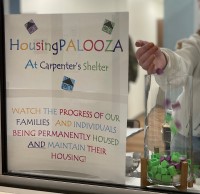 If you notice little Monopoly-sized houses at the shelter, that is part of our newest endeavor to re-house those experiencing homelessness. We're not playing games -- actually quite the opposite. We have doubled down on our efforts to get families and individuals into homes as quickly as possible. With an eye toward innovation, Carpenter's Shelter's "Housing Palooza" follows the Housing First model of prioritizing housing as a means to stability.
Next time, you're in the shelter, check out our Housing Palooza display in the Case Management office window, where the mini-houses represent families and individuals achieving and maintaining permanent housing!
. . . and counting
Thank You for a Successful Spring2ACTion!
Thank you to everyone who made the 12th Annual Spring2ACTion a huge success! We aimed to raise $75,000 and we surpassed our goal!
We were thrilled to earn prizes during the event, including 3rd place in the 'Most Donors' category and the 3 pm - 4 pm 'Power Hour' prize. Carpenter's Shelter was in the top ten overall for both amount raised and highest number of donors.
You have shown the power of a community coming together for a greater cause. Every single donation counts towards our vision for Alexandria: where all families and individuals have housing stability. Your contribution for Spring2ACTion will allow us to continue providing shelter, food, medical care, mental health services, and housing location to Alexandria's most under-resourced residents.
A special thank you to the following individuals and organizations for providing matching funds for Spring2ACTion: Mason Hirst Foundation, Immanuel-on-the-Hill, Rita Susswein Gottesman, the MacRae Family, Rose-Ellen & Paul Campbell, Mike & Joy Lyden, Simone Putnam, Kisha Perkins & Brian Bookman, John & Lynn Brennan, Ray & Maggie Reddy, Mary Ann Bier, Jennifer Poersch, and Christopher W. Brown & Mimi Conger.
May 2022

Quick Calendar

May 18th:
6:00-7:00 p.m.
Volunteer Orientation
Please join Community Relations Manager Jamila Smith on Zoom for our monthly volunteer orientation. Click

here

to register.

May 18th:
If you missed Spring2ACTion, the United Way of the National Capital Area's DoMore24 is right around the corner. Early giving is open now and the official day is May 18th.
_____________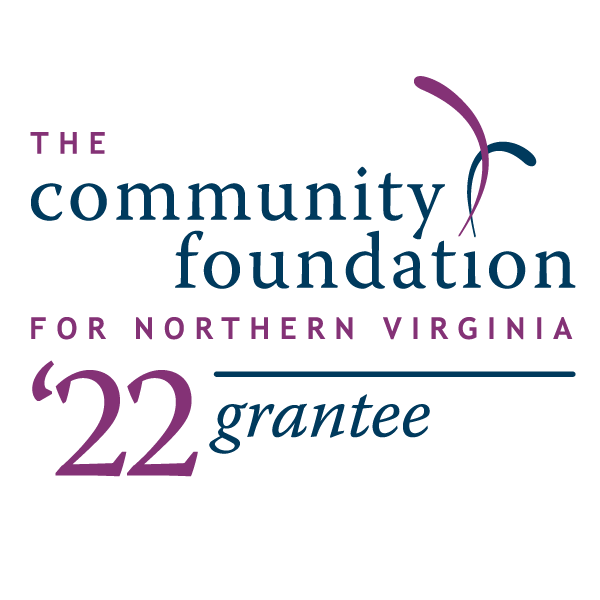 Community Foundation for Northern Virginia Provides Safety Net
We are thrilled to be recipients of a Community Investment Grant from the Community Foundation for Northern Viriginia. This Safety Net funding will help provide shelter and services to more than 250 people experiencing homelessness this year.
Easter Fun
The children at Carpenter's Shelter were thrilled when the Easter Bunny visited! Many thanks to ARK365dmv (Acts of Random Kindness) for spending Easter with our residents and bringing smiles, fun, and lots of treats to our little ones. Also thank you to Cotton & Company and National Charity League for creating beautiful Easter baskets for our community clients.
_______________
Quote of the Month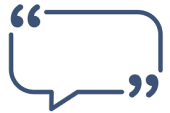 "Mr. R moved into his apartment today. You have rarely seen a person so happy. He literally cried tears of joy. He had been experiencing homelessness for 6 long months and utilizing Winter Shelter and David's Place. And now he's home. Yipee!"
Cathy Smyles,
Carpenter's Housing Locator
_______________
Employee of the Quarter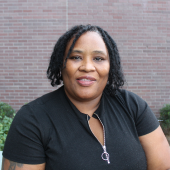 Every day, Wakeena Corbin goes the extra mile in serving those experiencing homelessness with skill, patience, passion, and commitment. Congratulations Wakeena!
______________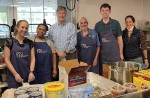 We were honored that Virginia Delegate Elizabeth Bennett-Parker and her crew, including US Congressman Don Beyer, volunteered to cook and serve a delicious lunch for our residents in April. The warm, homemade brownies were a big hit!
______________

Wish List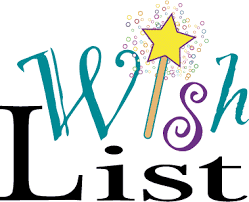 • Grocery gift cards
• Full-sized lotion
• Coffee creamer
• Pillows
• Individual snack bags
• Applesauce cups