February E-News
Patience is the Key to Success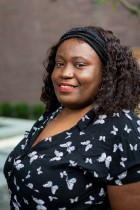 Brittany is smart, friendly, personable, and a loving mother to four sons and a daughter. She is also focused and determined, and although this 33-year-old's road to permanent housing has not been easy, she finally achieved it with the help of Carpenter's Shelter.
Originally from Washington, D.C., Brittany, her boyfriend, and their children lived in Texas for five years before family ties brought them back to Virginia. A landlord dispute in the middle of the pandemic left them without a home.
Brittany is very grateful to Carpenter's Shelter for providing her family with a place to live and connecting them to community resources. Her children attended summer camp nearby and enjoyed holiday celebrations, Children's Hour, and pet therapy nights. Brittany worked hard along with her Case Manager and Housing Locator, and was able to find a three-bedroom apartment for her family.
"Carpenter's doesn't give up on you. They keep trying and trying until something works out. The staff is really nice, supportive, and friendly. They give you all the encouragement and all the help you need."
Brittany is very focused on supporting her children and making sure they have everything they need to thrive. She is proud of their school accomplishments and the money management skills she has taught them. Brittany's dream is to one day buy a house and begin to build wealth for her family.
"Patience is the key to success. If you are patient and stay focused on what you need to do and put in the work, something will work out for you."
Winter Shelter Collaborative
Carpenter's Shelter has operated the City of Alexandria Winter Shelter Collaborative for nearly 30 years, providing adults and families a warm, safe environment to retreat from winter weather at night.
This year, the Winter Shelter has moved to the space vacated by the Alexandria Residential Treatment Center's in-patient detox program. "Our new space means our clients have beds, lockers, and showers which has made a big difference in their lives," says Winter Shelter Coordinator Denise Ziegler.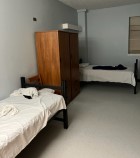 "In past locations, we had to use sleeping mats and clients would need to take their belongings with them during the day when the shelter was closed. Now that they can leave their belongings in the lockers, they can attend job interviews and housing appointments. In fact, we are very proud that four of our clients have secured jobs in the past two weeks!"
The Winter Shelter is open every night from 7pm–7am from December through March, and in November and April when the weather is cold. Last month, Winter Shelter housed an average of 13 people each night with 25 being the largest number served.
Board Hub
Today's Guest
:
Meghan Hendy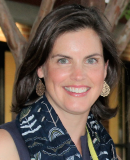 Meghan is a volunteer, stay-at-home mom, and owner of Meghan Hendy Art. She has served on the Board since 2017.
What brought you to Carpenter's Shelter?
I started volunteering through my church's monthly meal program back in 2013 and then joined the Development Committee to help with events and fundraising. I had nonprofit experience having previously been an Executive Director of a child welfare association. When the Director of Development position became available I joined the staff team and served in that role for 18 months. I loved working at the shelter but with young kids at home and trying to do a full time job on a part time schedule, it eventually took its toll and I stepped down as a staff member and transitioned back to volunteering. Serving on the board since then has been a great experience and fit for me!

What would you like our readers to know about Carpenter's Shelter?
It's truly a wonderful place and it takes a village. Everyone can contribute to making Carpenter's Shelter the best it can be - sign up to work the front desk, serve a meal, become a job coach, join a committee, or donate money. Or all of the above!
As a member of the Board of DIrectors, what are you most proud?
I'm proud of so much at Carpenter's Shelter! For the Board of Directors, I'm proud of the culture we have cultivated and our risk taking. When you look at Carpenter's Shelter's new home, you see a beautiful, new, purpose-built building, but it was a long road to get there. It took years of discussions, a team of supporters figuring out the logistics, and an incredibly generous donor base in our community. Co-Chairing the New Heights Capital Campaign, which raised more than $2 million for the building, Permanent Supportive Housing Units and the Innovation Fund, is hands down the highlight of my career. For our residents I'm proud of their resilience and determination. It's not easy to ask for help and while they are experiencing homelessness, it does not define them - they can find a safe, secure place to get back on their feet while they are at Carpenter's Shelter. For our staff, I'm proud of their dedication and heart. Day after day they are doing critical boots-on-the-ground work and meeting residents and clients with dignity and respect. So I'm most proud of our staff.
. . . and counting
We are so thankful for our relationships with local businesses, organizations, restaurants, and freelancers. This month, Carpenter's Shelter would like to highlight
Yes&
, an award winning marketing agency located here in Alexandria. Yes& has provided pro bono designs for many of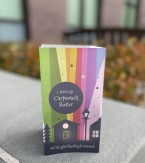 Carpenter's Shelter's mailings (if you received an end-of-year letter from us, that was Yes&!) They pour their heart and soul into their work with us, this year placing individually hand-cut houses along our windows to further our message.
Sara Rassi, VP Account Services, says "Working with the team at Carpenter's Shelter is always a highlight of my year. They are such incredible humans doing amazing work. They are also great partners, coming to the table with ideas and collaborating with our creative team. The Carpenter's Shelter team is fun, passionate, and our biggest cheerleaders. You can't ask for more."
Yes& is always willing to help when they see a need in their community. "We so value the tireless work Carpenter's Shelter is doing to end homelessness in our community. It's important that people understand both the need and impact their support can have, so we at Yes& are honored to contribute ideas, design - anthing we can -
to help all our community thrive," reports Sara.
Thank you to Yes& for your incredible work within our community and the years of support you have shown Carpenter's Shelter!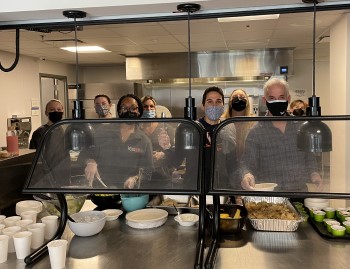 In addition to their design work, Yes& has also volunteered to serve lunch!
February 2022

Quick Calendar

February 15th:
6:00-7:00 pm
Volunteer Orientation
Please join Community Relations Manager Jamila Smith on Zoom for our monthly volunteer orientation. Click here to register.


_____________
February is Black History Month
Join us on
Facebook
throughout the month of February as we spotlight the achievements and stories of Black people throughout history who have caught the eye of various staff members at Carpenter's Shelter.
_______________
New Grant Awarded to Carpenter's Shelter

Carpenter's Shelter is supported by the Fund for Children, Youth, and Families which invests in the betterment of underserved children, youth, and families across the greater Washington region. The Fund for Children, Youth, and Families is administered by The Greater Washington Community Foundation. We are very grateful for this support!
_______________

Circle of Hope

Circle of Hope families braved the cold last weekend and headed to Carpenter's Shelter for their Thankful for Shelter Volunteer Day. They created Welcome Home baskets for residents exiting the shelter, organized the Children's Playroom, and stocked toiletry cases.
To find out more about getting your children involved in volunteering at Carpenter's Shelter, click HERE and choose "Circle of Hope".
______________
Holiday Generosity
The Carpenter's community is especially generous during the holidays! One such act of generosity was made by the Agudas Achim Sisterhood who provided an incredible Christmas Eve dinner for our residents! The meal included chicken, ham, sweet potatoes, greens beans, broccoli, macaroni and cheese, rigatoni, rolls, cornbread, and assorted desserts. This congregation also made a very generous donation toward gift cards for our clients. "We want the residents of Carpenter's Shelter to know they are not forgotten during the holiday season", stated Rita Blacker, long-time Agudas Achim member. We greatly appreciate the support we have received from this group for many years!
______________

In-Kind Donations Needed

Individual snacks for lunches
Disposable razors
Shaving cream
New men's sweatpants
in L/XL/XXL
You may also shop from our Amazon Wish List, which we update with our most pressing needs.