View this message on our website.

FOLLOW US:



January E-News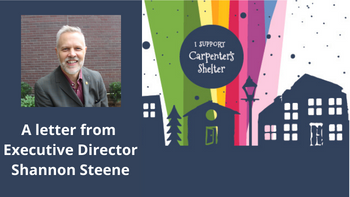 Since our founding, Carpenter's Shelter has been about a safe today and a better tomorrow. As I type this, residents are working on vision boards for what they want their future to hold. Others in shelter are thinking about resolutions for the new year and a colleague encouraged me to think about what one-word theme I might have for 2022.
Hmm…this is a lot of focus on good things to come and it all dovetails nicely with our Light The Way Forward campaign. I'm so grateful for our community's support! That revenue and all the contributions combine to make the community our main contributor. The campaign will remain active through the end of January, so it's not too late, if you haven't yet participated.
There is something pleasing about the fresh start of what is to come as well as what you can leave behind when we move from year to year. We now have a full year of experience seeing the new facility live up to our expectations. We also have a full year of experience safely serving people amid a health pandemic. May this all bode well for a successful and vibrant 2022!
Board Hub
Today's Guest: Simone Putnam

Simone is a partner at Marcum, LLP and has served on the Board of Directors since 2020. Simone is currently our Treasurer.
What brought you to Carpenter's Shelter? I've lived in the City of Alexandria for almost 20 years and have always leaned toward supporting those experiencing homelessness with my charitable giving. I wanted to do more for the homeless community, so I reached out to Carpenter's Shelter to see how I could become more involved. I was a founding member of the Circle of Hope, later joined the governance committee, and then became a board member.
What would you like our readers to know about Carpenter's Shelter? Carpenter's Shelter plays a very important role in the City of Alexandria and is part of the fabric of our community. The shelter has over 1,200 volunteers each year which speaks to the importance the community places on the work of the shelter. Our supporters (volunteers, financial supporters and advocates) feel an ownership of the shelter and its work. We would like to deepen this connection with the community by attracting even more supporters.
What are you most proud of about Carpenter's Shelter? The level of care and commitment of the staff. The stress during the past two years of keeping the shelter running while navigating the pandemic and moving into a new building is almost inconceivable. However, the shelter staff under the direction of its strong leader have stayed true to their mission so that the most vulnerable in our community remain supported.
...and counting
Have you received your 2021 donation receipt?
Thank you for supporting Carpenter's Shelter! If you have made a charitable donation but have not yet received a tax receipt for your donation, please contact Sienna Brown, Development Associate, at (703) 548-7500 ext. 204 or SiennaBrown@CarpentersShelter.org to receive another copy. If you are a recurring donor, you will receive a letter soon detailing your cumulative 2021 donation total. If you are not a monthly donor, but have made multiple donations and would like to receive a total 2021 summary, please contact Sienna Brown. Thank you again to everyone for your support of Carpenter's Shelter and our mission. Our success would not be possible without each and every one of you!
Your Support in Action
In Fiscal Year 2021, you supported the following children, women, and men on their path to permanent housing: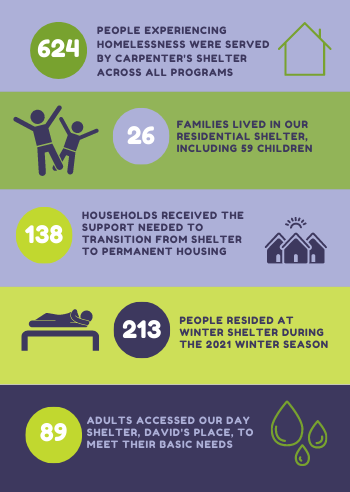 January 2022

Quick Calendar

January 17th:
Martin Luther King Day

January 18th:
6:00-7:00 pm
Volunteer Orientation Please join Community Relations Manager Jamila Smith on Zoom for our monthly volunteer orientation. Click here to register.


_____________

Many thanks to Crescent Cities Charities for providing a new grant to support children and families in our Emergency Shelter!
_______________
Light the Way Forward
The incredible outpouring of support from our community during the holiday season - and throughout the year - makes our work possible. If you'd still like to donate to our End of Year Light The Way Forward Campaign, please click HERE.
_______________

Holidays at the Shelter
Our community continues to amaze us! Thank you for reaching out to those experiencing homelessness during the holiday season!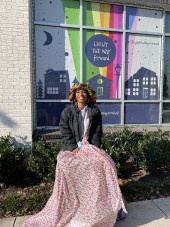 This mom was one of the 127 children, women, and men served by Carpenter's Shelter who received holiday gift sponsorships!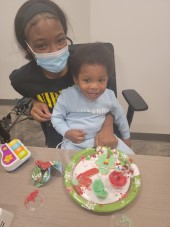 A mom and her young son enjoy cookie decorating at Carpenter's Children's Christmas Party.
______________
Thinking about Volunteering?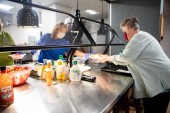 Join our dedicated team of 1,200 volunteers who serve meals, staff the front desk, run Children's Hour, host holiday parties, coach job seekers, teach financial literacy, organize supplies, and more! See the link above for our monthly Volunteer Orientation or contact AlyssaNelson@ CarpentersShelter.org.