Volunteer Focus! These individuals are the life blood of the shelter!
Case in point Lakeisha Sparrow, she is a bright moment in everyone's day with her cheerful greeting, she makes a difference in all of our days!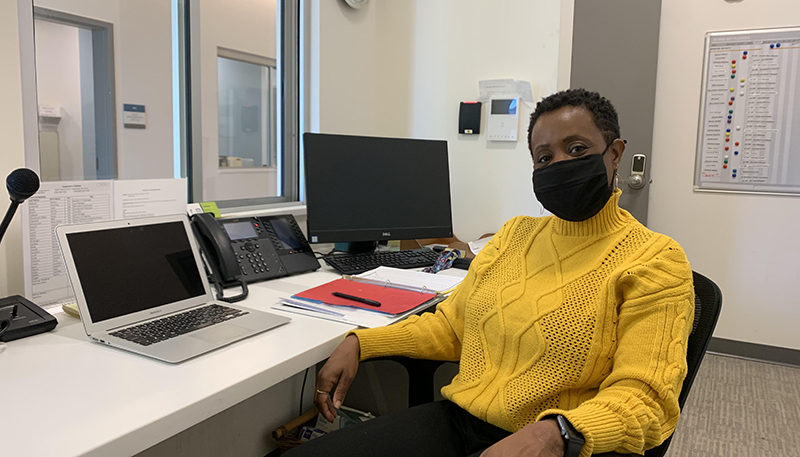 Lakeisha, at the front desk, she's been a volunteer for the past 3 months

Lakeisha is a wonderfully sunny moment in our day,
even though it's hidden behind a mask you can still see the smile in her eyes. Working at the front desk gives her the opportunity to greet all who enter and she offers to help where she can.
A U.S. Air Force Veteran, she served 20 years as a Senior Human Resources Manager before retiring in 2016. "After retirement, She moved to NYC to pursue a Master's Degree in Urban Studies with a focus in Community Development - Affordable Housing." No small accomplishment there! She is a former Analyst with the Department of the Army and the Department of Homeland Security.
As a new resident of Alexandria, VA, she watched the construction of Carpenter's Shelter's new building, researched our mission and in November 2020, she completed the volunteer process.
"The staff has been welcoming, kind and always ready to answer any of my questions. The environment is positive and relaxed but still professional. The residents are treated with the utmost respect and in-turn are gracious. I applaud the Carpenter team for their dedication to helping individuals and families in crisis. My experience at Carpenter's Shelter has been truly inspiring and reaffirmed my commitment to helping people gain access to adequate and stable housing."
When she's not volunteering, Lakeisha enjoys spending time with family and friends, she practices yoga, hikes, and likes traveling the world.
It's because of people like Lakeisha that the shelter is as well regarded as it is in the City. The volunteers that find themselves here are giving back and helping their neighbors through a tough time in their lives, there is no great calling that that! To all of you, we owe a great deal of gratitude and a simple thank you.

If you would like to join Team Carpenter's click here and get more information and or sign-up
_____________________________________